Print this page
Exhaust Pressure Sensors (EPS)
What technicians need to know about Exhaust Pressure Sensor types, operation and diagnosing/testing when working on the vehicle emission control system.
Purpose of the EPS
This sensor is a pressure differential sensor required by the ECU to monitor the restriction level of the Diesel Particulate Filter (DPF) so the ECU can perform levels of DPF regeneration procedures depending on how much soot has been stored in the DPF.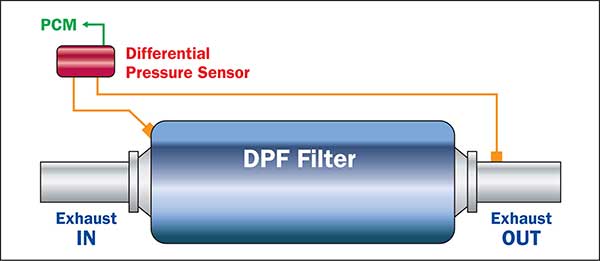 What does this mean?
Most (but not all) CRD vehicles are fitted with a Diesel Particulate Filter to filter/store "soot" and "ash" that is the by-product of combustion and reported as harmful to humans and to the environment before they are released from the exhaust into the atmosphere.
When the level of these stored products start to restrict the exhaust flow through the filter (DPF), the ECU requires to eliminate the restriction by temporarily increasing the internal temperature of the DPF and allowing the soot to alter its structure when reacting with the extreme heat and the DPF internal material structure.
During the reaction, the solid soot mass is combusted and released in a gaseous form that is much lower in emission levels.
Note: It is important to note that unlike Soot, the Ash quantity trapped in the DPF cannot be combusted and tends to be stored internally and eventually becomes problematic. The Ash is generally increased in quantity when engine oil is burnt in greater volumes than expected.
Regeneration process
The pressure difference between "exhaust in" on the DPF and "exhaust out" on the DPF, monitored by the Exhaust Pressure Sensor is utilised by the ECU to select and perform a DPF regeneration procedure.
Passive regeneration
This increased quantity of fuel occurs automatically with no warning light indication displayed.

 

Active regeneration
When the soot loading reaches approx. 45%, indicated by the signal from the EPS to the ECU, allows the increase in fuel commanded by the ECU to enter the DPF when the conditions are suitable.
Note: If the DPF remains partially restricted after these regeneration processes, then the ECU will demand a Forced or Manual regeneration procedure to take place. This requires the use of a suitable scanner and must not be carried out in enclosed premises.