Print this page
We pride ourselves on having the most comprehensive range of rotating, engine management, accessories and lighting products suited for various vehicle applications in New Zealand.
ROTATING
Rotating comprises of the following range
Starter Motors
Alternators
Rotating electrical components which are essentially service parts for alternators and starter motors
We stock over 2000 types of alternators and starter motors for a range of vehicles and applications.
Thoroughly proven in New Zealand and Australian conditions, they are the result of considerable research, product development and rigorous testing.
JAS units are manufactured to stringent quality standards, specified with quality OE/premium components to ensure consistent quality across the range. This is also achieved by regularly visiting supplying factories.
We continue to improve our specifications to offer customers a wider range and always strive for the most reliable and efficient product
ENGINE MANAGEMENT
We represent and stock the PAT (Premier Auto Trade) range of engine management products in New Zealand which consists of the following to name a few
Ignition coils & lead sets
Sensors – Oxygen, Crank, Camshaft, Map, knock , wheel speed etc.
Fuel pumps & injectors
Air flow meters
EGR Valves
Suction control valves
HKT Glow Plugs
We carry two types of ranges, PAT premium range and the MVP range.
PAT PREMIUM Range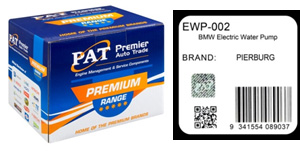 Products from leading manufacturers including Pierburg, Bosch, Delphi, VDO, Denso, Valeo, Hitachi, VDO, Walker Products, TI Automotive, Walbro, Bougicord, FAE, Standard Motor Products, TE utomotive, Bremi and others are supplied in the PAT Premium Range packaging, giving peace of mind that a quality brand product is in this packaging
PAT Premium packaging also features an identification label which includes details of the genuine item or manufacturer's brand name, and also features an authentication hologram to ensure you are getting the real thing.
MVP (Motor Vehicle Parts) Range
The MVP (Motor Vehicle Parts) range includes high quality aftermarket products, with a focus on value. MVP Products are designed and tested to the vehicle manufacturer's specifications, offering OE form, fit and function.
LIGHTING
Our lighting range includes a range of daytime running lamps, lightbars, headlamps, sealed beams, LED bulbs, inspection lamps and torches, truck and trailer light fittings and worklamps to name a few.
ACCESSORIES
We stock a wide range of accessories such as
Cables and cable termination.
Circuit protection
Horns & buzzers
Relays & Flashers
Switches
Terminals and connectors
TOOLS & EQUIPMENT
We carry a range of hand tools, circuit testers, meters and many more.